The patio adds a unique appeal to any outdoor space and compliments your home or office. It not just enhances the appearance of your home but pleases your guests and colleagues when they visit your premises. The design selection of a patio speaks volumes about your taste for things so it should be impressive enough to capture the attention of spectators, guests, relatives, etc. This doesn't mean it has to be an expensive deal. You can choose a simple stamped concrete patio to make an impact without being extravagant.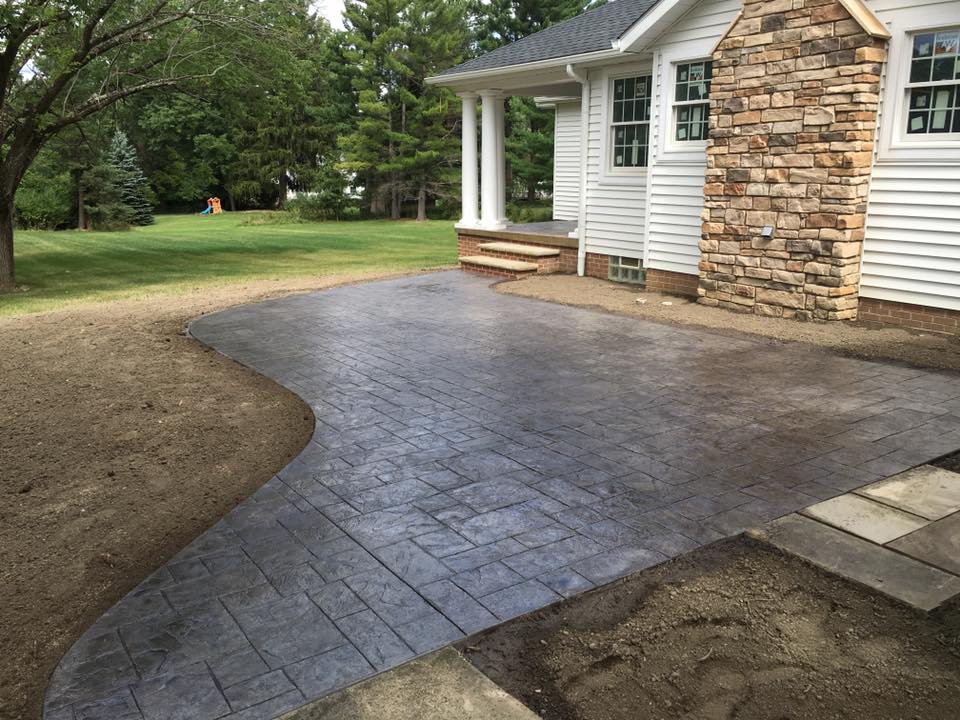 Here are 5 simple stamped concrete patio design ideas which are carefully selected to add a unique touch to your outdoor space.
Design layout that matches with the home architecture and natural surroundings: Stamped concrete is popular because of design flexibility. You can achieve almost any look imaginable. First, consider the design and shape of your patio. There are many concrete patio designs layouts to choose from, but ask yourself whether you want a patio in rectangular, square or round shape. This depends on how your patio will be used. If you entertain a lot then you will need open areas for outdoor chairs and tables. If you like quiet nooks then you would need to create a small and cozy area with a seating area around the fire pit. Consider a variety of designs to give some uniqueness to your patio. The patio should create a welcoming atmosphere which must blend with the home architecture and the natural surroundings.
Create a unique design by imprinting patterns in freshly laid concrete: When it comes to stamped concrete types you have ample of choice. It is designed to resemble a brick, cobblestone, flagstone, etc. The natural stone looks are costly and they need more upkeep than patterned or stamped concrete. You can create a feasible and unique design with stamped concrete. You can choose heavily textured random fieldstones, running bond pattern with bricks that have smooth joints, wire cut common brick texture with sharp corners, etc. There are end numbers of stamped concrete patterns to select from. You can create a unique design by imprinting patterns in freshly laid concrete. This will allow achieving a high-end look of the stone or brick pavement without spending a lot.
Concrete engraving: Concrete engraving means staining the concrete to give it a proper color then engraving a pattern out of it. Interior and exterior concrete can be engraved in a great way. Outdoor engraving helps to transform driveways, pool decks, walkways, parking lots, etc. Indoor engravings will help to create a unique design and pattern for restaurants, stores, etc.
Keep the color simple and elegant: Until you want to go overboard with different layers of colored concrete or need hand staining for completing the home design you must keep it simple. The color should be consistent for the entire design.
Color integrally: You can color the concrete integrally. You can add pigments to the concrete mix before placing so the color can go perfectly throughout. This is beneficial for the color will not be worn out or chipped. It will not fade. The options for integrally colored concrete are many. It is mainly earth stones- gray, subtle red or brown. You can also go for subtle green or blue color. For an intense and eye-catching appeal, an internal pigment may not be a good choice. Most of the stamped concrete contractors make use of integral color as a base and add stains, dyes or color hardeners to the surface for an improved hue. Mostly they choose dyes for stamped concrete as these are popular for creating the graphics in a detailed way, but these can fade in sunlight. So, do ask for UV stability of the product or if there is a sealer which can help in protecting the outdoor color then it will be beneficial.
For implementing these ideas more beautifully you can get in touch with the most professional stamped concrete Ohio contractors with certified training, experience and knowledge. They make use of appropriate machines to improve the look of stamped concrete in an impeccable way. So, choose your design style and give a unique appeal to your stamped concrete patio.