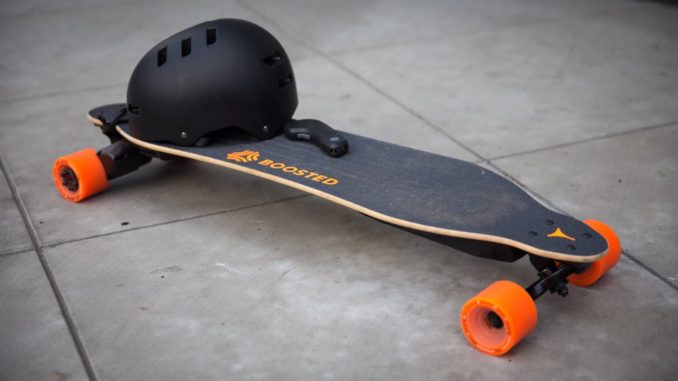 The factors that determine the proper choice of buying and using a skateboard are the skater's years of experience, style of riding, height and weight, size of deck and wheels. Yet, the most major factor is the price tag on the skateboard. All beginners are advised to commence with a cheap electric skateboard available in the market. It will help you acquire the riding skills and give you enough understanding about how you can use the high-performance skateboards. Thus, when you will buy high-performance skateboards then it will be easy to make use of it like a pro.
Since these are all electric skateboards, they require Lithium Ion battery which requires few hours of charging to make your ride exemplary. The top 5 reasonable priced skateboards have been listed below to help you make a decent choice.
1. BLITZART Huracane Electric Skateboard: (13lb; deck: Maple wood; 350 watt; 4.4 Ah lithium-ion battery; 2.5 hr;17mphr; 10miles; 300lbs)
The skateboard can accommodate a rider who weighs 300 pounds. It is one of the best and is 38 inches long. The 8 ply deck is made of sturdy maple wood and it offers additional support because of the bamboo layer. The hub motor in the wheels is really powerful and the battery is a 36V lithium-ion battery which will allow you to have a smooth ride. On a single full charge, the product can operate for two and a half hours and that too on full charge.
Pros: 3.5-inch polyurethane wheels; regenerative braking system; reliable hub motors. Skaters get to ride on flat roads and 10% inclined surfaces.
Cons: It stalls when the inclination is over 10%. The skateboard is not waterproof. Electronics are not durable.  
2. Acton Blink 2018 Go Electric Skateboard: (7lb; deck: Maple wood; 450 watts; Lithium-ion battery; 2hr; 10mph; 5miles; 180lbs) It is unlike the standard skateboards and designed impeccably to give you a fun packed ride. It is the lightest skateboards of today and performs in a supreme way at high power. It is ideal for teens and pre-teens. If you want your kids to have some sort of outdoor activity then this is a great choice.
Pros: Size 30 inches; 70 mm polyurethane wheels with Aluminium truck; a Regenerative braking system; LED lights; Waterproof; Bluetooth wireless remote control; Optional Smartphone app. Skaters can ride on a flat surface and off-road.
Cons: Battery life is short offering only 5 miles at low-speed 10mph. Battery charging time is very long.
Special feature: This is an affordable electric skateboard for skaters up to 180lbs. The skate mode is available in 3 riding modes for beginners, intermediate and advanced riders.
3. BLITZART Tornado Electric Skateboard: (13lb; deck:7-ply maple wood with 2-ply bamboo; 350 watt; 4.4 Ah Lithium-ion battery; 2.5hr; 17mph; 10miles; 250lb)
If you want a hub motor powered skateboard that can move on high speed then this is a great choice. It is less than 500 dollars and gives you such freedom of movement which you expect from surfing. If you are a longboard rider and want to fly on the road then this is for you. You can customize the board using replaceable accessories as well.
Pros: 90 mm polyurethane wheels; a regenerative braking system; single hub and wireless remote control. Skaters can ride on flat roads.
Cons: Not waterproof.
4. SWAGTRON SwagBoard NG-1: (9.5lb; deck: Maple wood; 350watt; 24 V LPF battery; 4hr;11mph; 10 mile;176 lb)
This is UL 2272 certified a high-quality product which comes with a wireless LED remote control for easy traction and good control. It is safe for beginners, preteens and teens. It has an efficient mechanism and great for those who have just working on their balance.
Pros: Polyurethane wheels; Safe due to dual torque mechanism; a Regenerative braking system; waterproof. Skaters can ride smoothly on all types of surfaces.
Cons: Limitations for intermediate riders and it is expensive.
Special Feature: SwagBoard NG-1 offers electric longboard with a good axle and hanger assembly. This skateboard is ideal for body balancing made especially for beginners. The provided remote sensor controls navigation ensuring the rider to turn left/right at less than right-angles.  
5. ACTON BLINK Lite V2: (7.7lbs; deck: Canadian maple wood; 450 watt; Lithium-ion batteries; 2hr; 10mph; 5 miles;130lbs)
It is a single hub motor electric skateboard that offers high features at a reasonable price. It offers high mile range for users who want a reliable and streamlined product that can allow them to fly on the road with ease. The product is safe and gives a high speed of 10 mph. The wide enough dimensions are great for support and balance. The board operates at high speed and is highly durable.
Pros: 4×70 mm wheels; the Regenerative braking system; waterproof; safety features; single hub; Bluetooth handheld remote control. Skaters can commute daily to work and school riding on road and off-road at 8% incline.
Cons: Not suitable for advanced riders.
Special Feature: ACTON Blink Lite V2 is a small electric skateboard
(4"x 4"x4) making it light-weight (7.7lbs) and portable. This skateboard offers high tech including good torque techniques, safe speed, and durability. The skateboard is designed for children, preteens, teens and college students up to 130lbs. It is ideal to commute to work and school on daily basis.
Conclusion:
Above is the detailed information on the five recommended affordable skateboards. After studying each skateboard with pros, cons and special features, one can select the best electric skateboard.