Mehndi – The Excitement of an Indian Wedding:
The season of shaadis and marriages is on and knocking on everybody's door. On such kinds of auspicious occasion, there are many rites and rituals that have to be followed and maintained strictly. Some of these rituals may really make no sense while some more may be just nothing but a pain in the back side. However, there are certain rituals which all of us love to play a part in and give a hand. For instance, nobody would dare to miss the exciting opportunity to cover the bride or groom – as the case may be – in semi- solid turmeric paste! That is so exciting! Not only does it make the skin glow but it also gives the look and feel of a mini holi festival!
Similarly, another such fun filled and eagerly awaited occasion is applying mehndi on hands. Applying mehndi is considered to be as one of the most important occasions in the entire resume of a grand Indian Wedding. Added to that, the sheer excitement of the ladies – from eight to eighty – over the application of best mehndi designs makes this occasion even more important than it could have been.
Mehndi Application as a Custom:
Applying mehndi is predominantly the custom for the family of brides. Yes, the groom does not wear mehndi of course but that does not stop his mother, sisters, aunts and all other female relatives and friends from wearing an exquisite design on their hands. For the part of a bride's family, well, this custom holds a much higher level of importance as the bride wears mehndi too.
Mehndi comes as a part of all the extraordinary looks that goes into the bridal make over. Thus, it has evolved from being just an ordinary custom to something even more important and useful. Mehndi has become a part of the bridal makeup. It has become almost as important as all the costly jewelry and the expensive sari that the bride wears. So making a perfect makeover with the best mehndi design is a must for the relatives and friends of the bride.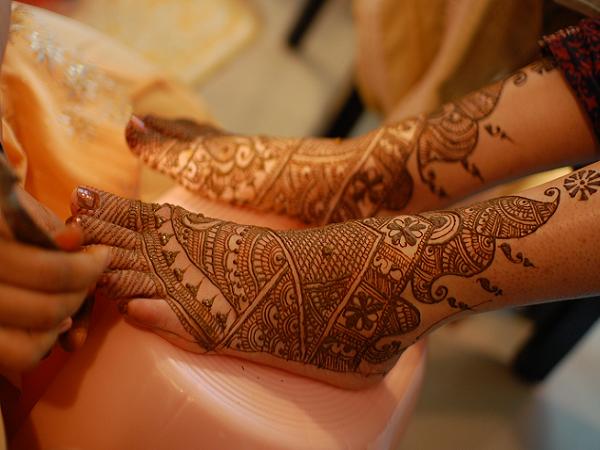 Fine Touches of an Expert Artist:
Perfecting the art of drawing a bridal mehndi design is not about to feature on just anybody's résumé. It is a job for experts only and only experts can decide what the perfect design would be to go with all the other looks of sari and jewelry.
With passage of time, this art of applying mehndi has evolved. Mehndi basically used to be applied on hands. But when people tried out mehndi designs for legs (not just the feet), things turned out pretty well. Therefore, alongside a huge collection of mehndi designs for hands, mehndi artists also keep mehndi designs which look gorgeous on the legs as well. Altogether, mehndi artists are the best option to go for if you are looking for some really innovative designs.

Unity in Diversity:
Our country is a country filled with many religions. This has led to a major positive interaction between many religions on the basis of their religious customs. Mehndi application is specifically a Hindu custom which is being done for centuries now. Some believe that this art has mainly evolved from Rajasthani mehndi designs. But this does not stop people who believe in other faiths to come and apply mehndi on their hands. Thus, mehndi has evolved a lot – from being religious to becoming a major cosmetic practice that is actually healthy.
Benefits of Applying Mehndi:
Mehndi is made from a potent Ayurvedic herb known as henna. This herb plays a major role in preventing skin diseases. Apart from that, mehndi also helps the skin to glow radiantly when applied with turmeric paste (which is the custom at weddings). Thus bridal mehndi designs do have many other benefits too apart from gorgeous looks.